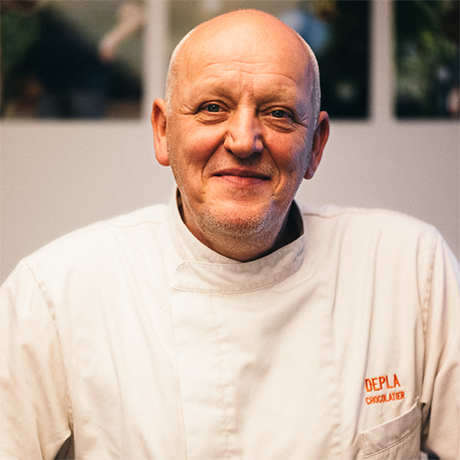 DEPLA
Since father Depla opened his patisserie and chocolaterie in1958, the name Depla has never been absent from the tstreetsof Bruges. Once upon a time, a huge banner with the name of the oldest artisanal chocolatier of Bruges hang for days high up on the Belfry tower. Not as a promotional stunt for the business but as an announcement for the yearly 'Ball Depla for the disabled'. A true unicum in the history of Bruges.
What Bruges means for Depla, Depla means for chocolate. Infected by the beauty of his father's craft, son Pol developed a passion for the mysteries of cocoa and he combined his talent and creativity with the inherited entrepeneurship of his father. After all, father Depla was the first one in Belgium to start a wholesale business in artisanal pancakes.
It was not long before Pol Depla focused on the creation, design, and manufacturing of handmade chocolates based on 100% cacao, pure butter, real cream and pure products without any additives. Besides a collection of traditional chocolates based on the recipes of his father, Pol innovates with a growing collection of modern chocolates with seasonal flavours and adventurous combinations. In 2002 he even patented a procedure to make chocolates with fresh flowers.
Text: Edward Vanhoutte
Pol Depla is frequently invited to give demonstrations such as in 2011 when he represented Belgium on the Shanghai World Expo.
Every year, in a laboratory in Paris, Pol Depla selects the best cocoabeans and has them grinded to cocoa mass. In his own workshop in Bruges, this cocoa mass is transformed to the unique chocolate – a family recipe – which determines the typical taste of Chocolaterie Depla.
The oldest artisanal chocolatier of Bruges, Chocolatier Depla is an icon in the city of Bruges.